We're seeing a huge surge in Facebook ad accounts getting shut down at the moment. One potential solution that seems to be helping some advertisers: Business Verification in Facebook Business Manager.
There could be many factors contributing to the shutdown of Facebook ad accounts. Maybe you've actually violated advertising policies. If that's the case, it's something that you need to sort out with Facebook.
But maybe you've done nothing wrong and your account is getting flagged incorrectly. That's actually quite possible at the moment, given what we're seeing. It could be related to election season and greater scrutiny, particularly if the content in your ad is at all related to politics or social issues.
It may be related to the fact that Facebook is short-staffed during the pandemic and relying heavily on automated processes. This can result in a frustrating feedback loop.
We have heard, though, that Facebook reps in these situations are often asking advertisers to get their businesses verified. We've even seen some cases where advertisers had their businesses verified without prompting, and their ad accounts were later reactivated.
That doesn't mean that business verification is the magic bullet. While it may not lead to the results you want, it makes sense that Facebook would look more favorably on verified businesses than on unverified businesses.
Let's walk through business verification…A MESSAGE FROM JON
What is Business Verification?
Business Verification allows you to verify that a Facebook Business Manager account is owned by a specific business.
In order to verify your business, be prepared to provide the following information:
Proof of identity (government and non-government IDs)
Legal details of your business (business name, address, contact info)
Proof of access to the business (receive a phone call/text or email; domain verification)
Now, let's walk through the steps of verifying your business…
How to Verify Your Business
First, go to your Business Manager and click on Security Center.

Click the button to "Start Verification."
You'll have a four or five-step verification process that should look like this…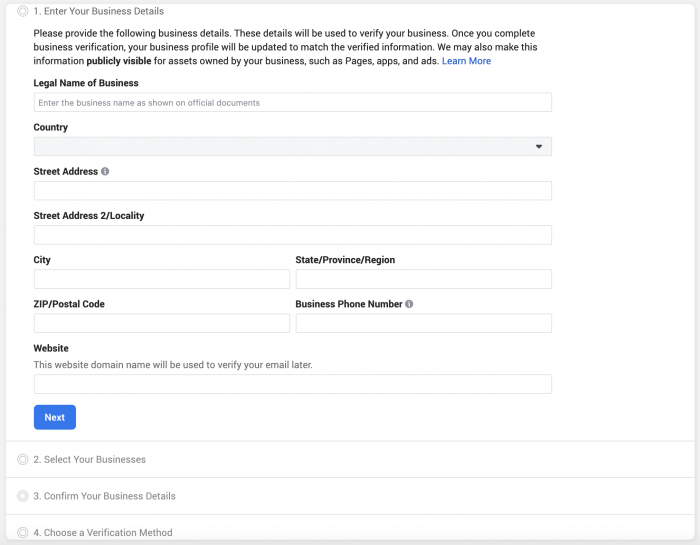 1. Confirm Your Identity.
Not everyone will have this step. It's most likely to appear if you need to appeal a decision to ban your account.
You'll need to upload a photo ID or two forms of non-photo identification. You won't be able to move to the next step until Facebook has reviewed this submission.
2. Enter Business Details.
This includes legal business name, address, phone number, and website.
3. Select Your Business.
Facebook will generate a list of legal businesses that match your submission. Select the correct business from the list.
If your business does not appear, you'll need to upload official documents. If approved, you won't need to proceed with the following steps.
4. Confirm Your Business Details and Get a Verification Code.
Select a phone number that you have access to, and click "Next." Choose to receive a verification code via text, call, or email (a call may not be available in all countries). Then check your phone or email to complete the verification.
5. Verify Your Domain.
You can also verify your domain instead of going through Step 4. This requires you to add some code to your official business website. Verifying your domain is a good idea generally, even if you don't for the purposes of business verification.
If it's not clear to you yet, unethical behavior will catch up to you. You may be rewarded for a short period of time. But the minute you are flagged by Facebook, you are going to struggle. You may never get your account
Why Does Verification Matter?
If you connect your business to an account, it makes it easier for Facebook to assign responsibility. It makes it much more difficult to try to evade Facebook and circumvent rules.
Understand the issues Facebook deals with related to fraud and bad actors. If they are unable to assign responsibility, it's easy for a business to simply set up new pages, profiles, and ad accounts. If Facebook flags a business, you'll need to verify a new business.
Ultimately, Facebook should look more favorably on any verified business. But it also means that you need to be ultra-careful if you aren't already. You need to follow the rules.
Page
Know that business verification is not the same thing as blue badge page verification. Verifying your business won't result in a visible badge.
If you're looking for information about verifying your page, go here.
Your Turn
If you're having issues with your account, has Facebook asked you to verify your business? Did it help?
Facebook Business Verification is different from Facebook Page Verification.
Please check the images below to understand the difference.
If you do not have a Facebook Business Manager Account, you can create one by visiting this page – https://business.facebook.com/create
Now, let's talk about how you can complete Facebook Business Verification.
Step 1: Go to Facebook Business Manager (https://business.facebook.com)
Step 2: If you already have a business, select the business account. If you do not have a Facebook Business Manager account, you can create one by visiting https://business.facebook.com/create.
Step 3: On the left navigation, click on the 'Business Settings' option.
Step 4: From the 'Business Settings' page, go to 'Security Center' on the left navigation.
Step 5: Click on the 'Start Verification' button.
Note: If the 'Start Verification' button is greyed/disabled (like the image below), you must follow some steps to enable it. Please read this quick 5-min guide to understand how to enable it.
Step 6: Fill in your Business Details on the next form.
How long does Facebook Business Verification take?
After applying for verification, it might take 1-5 business days to get a reply back from Facebook. If everything goes with the Facebook policies, your business manager will get approved.
This will help in unloading more awesome features such as WhatsApp business API access. To apply for WhatsApp Business APIs, you can use this link.
What documents are required for Facebook Business Verification?
In some cases, no documents are required for Facebook Business Verification. This happens because Facebook may be able to match your business against the publicly available records. In that case, you will only be required to select from a list of publicly available records that Facebook shows you –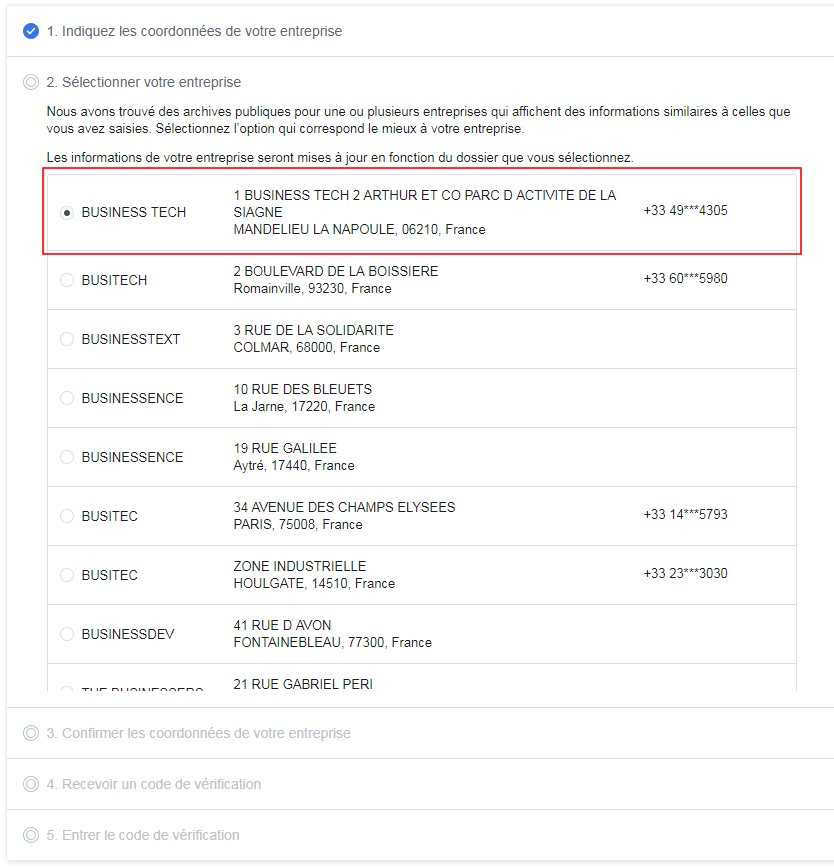 However, if no public match is found, you will need the below documents –
Legal Name Document – One of the below documents
– Business Registration (BR)
– Company Incorporation Certificate
– Tax/VAT Certificate
Address Proof Document – One of the below documents
– Bank Account Statement
– Utility Bill (Phone/Electricity Bill)
You can check the current status of your verification by going to your Security Centre. The table below shows what documents you can submit for business verification processing for your country of residence.
Country
Documents
Brazil
Business bank statement
Cadastro Nacional da Pessoa Juridica (CNPJ)
Certificado da Condicao de Microempreendedor Individual (MEI)
Contrato Social
Utility bill
China
公司註冊證書
商業登記摘錄
商業登記證
营业执照
銀行帳單
Cyprus
Αντίγραφο κίνησης λογαριασμού / Hesap özeti
Εγγραφή στο μητρώο Φ.Π.Α.
Καταστατικό / Şirket ana sözleşmesi
Μητρώο Επιχειρηματικών ΟντοτήτωνΣυστατική Πράξη Εταιρείας / Şirket Kuruluş Onay Belgesi
France
Avis de situation au repertoire SireneExtrai d'immatriculation D1Extrait K, L, Kbis ou LbisFacture d'électricité, de gaz ou d'eauLettre de confirmation de numéro SIREN délivrée par l'UrssafStatuts de l'enterpriseVAT registration
India
Business bank statement
Business licence
Certificate of incorporation
Goods and services tax registration certificate (GST)
Permanent account number card (PAN)
Shop establishment certificate
Udyog Aadar (UID)
Utility bill
Indonesia
Business bank statement
Izin Usaha Mikro Kecil (IUMK)
Nomar Induk Berusaha (NIB))
Surat Izin Usaha Perdagangan (SIUP)
Surat Pengukuhan Pengusaha Kena Pajak (SPPKP
Tanda Daftar Perusahaan (TDP
Utility bill
Ireland
An Oifig um Chlárú CuideachtaíBusiness bank statement business tax certificate certificate of business incorporation certificate of registration utility bill
Italy
Atto Costitutivo
Certificato di Registrazione Aziendale
Registro Imprese dell'archivio ufficiale della CCIAA
Statuto
Business bank statement
Certificate of formation
Utility bill
Value-added tax certificate (VAT)
Japan
個人事業の開業, 廃業等の届出書営業許可定款履歴事項全部証明書法人番号指定通知書納税証明書Business bank statementUtility bill
South Korea
사업자등록증요금납부 내역서지방세 납세 증명서지방세 납세 증명서
Taiwan
台中市政府函有限公司设立登记表
UAE
Certificate of formation
رخصة تجاريةشهادة تسجيل لضريبة القيمة المضافةفاتورة اتصالاتفاتورة الكهرباءكشف حساب بنك
Ukraine
Виписка з єдиного державного реєстру юридичних осіб , фізичних осіб-підприємців та громадьских формувань
Виписка з єдиного державного реєстру юридичних осіб та фізичних осіб-підприємців
Витяг з реєстру платників єдиного податку
Свідоцтво платника єдиного податку
United Kingdom
Business bank statement
Certificate of incorporation
Certificate of public liability insurance
Companies House document
Company registration number (CRN)
HM Revenue and Customs: VAT certificate
HM Revenue and Customs: Account statement
Utility bill
United States
Articles of incorporation
Business bank statement
Business licence
Employer identification number (EIN)
IRS SS-4 (EIN assignment letter)
IRS 147c (EIN confirmation letter)
Taxpayer identification number
Apart from the above you also need to verify your business domain. For domain verification, a code shall be sent to your business email address and you have to enter it.
What are common reasons for rejection of Business Verification?
Legal Name Document & Address Proof Document have different addresses – Please make sure all documents have the exact same address
Business Legal Name is not mentioned on the website submitted – It is advised to mention your company's legal name on the footer of your website
Business Email Address not used during verification – It is advised to use the business email address for Facebook Business Verification.

How to apply for WhatsApp Business API?
Pre-requisites:
WhatsApp Phone Number (Should not have a WhatsApp account, this number is non transferable)
If you want to delete the WhatsApp account with your number, follow these steps.
Business Display Name (Should have clear relationship with Business)
To know about Display Name Guide, please click here
Verified Facebook Business Manager ID (should be verified by uploading business documents)
If you do not have a Facebook Business, please create by clicking here.
To verify your Facebook Business, please follow these steps
Once you have these details, you can fill the details here to get WhatsApp API approval in less than 5 days. Apply for WhatsApp API approval by clicking here.
Does Facebook Business Verification help in getting Blue Tick Verification on Facebook Page or Green Tick Verification on WhatsApp?
Facebook Business Verification is different from Facebook Page Blue Tick Verification and WhatsApp Account Green Tick Verification.
While Facebook Business Verification is granted to all valid businesses, the public verification ticks (blue tick and green tick) are only approved for highly reputed businesses. There is no fixed criteria/eligibility for the same.